The third in TFR's coverage of VMDIFF, with reviews by Cathal Eustace and Katie McKenna.
Limbo
Review by Katie McKenna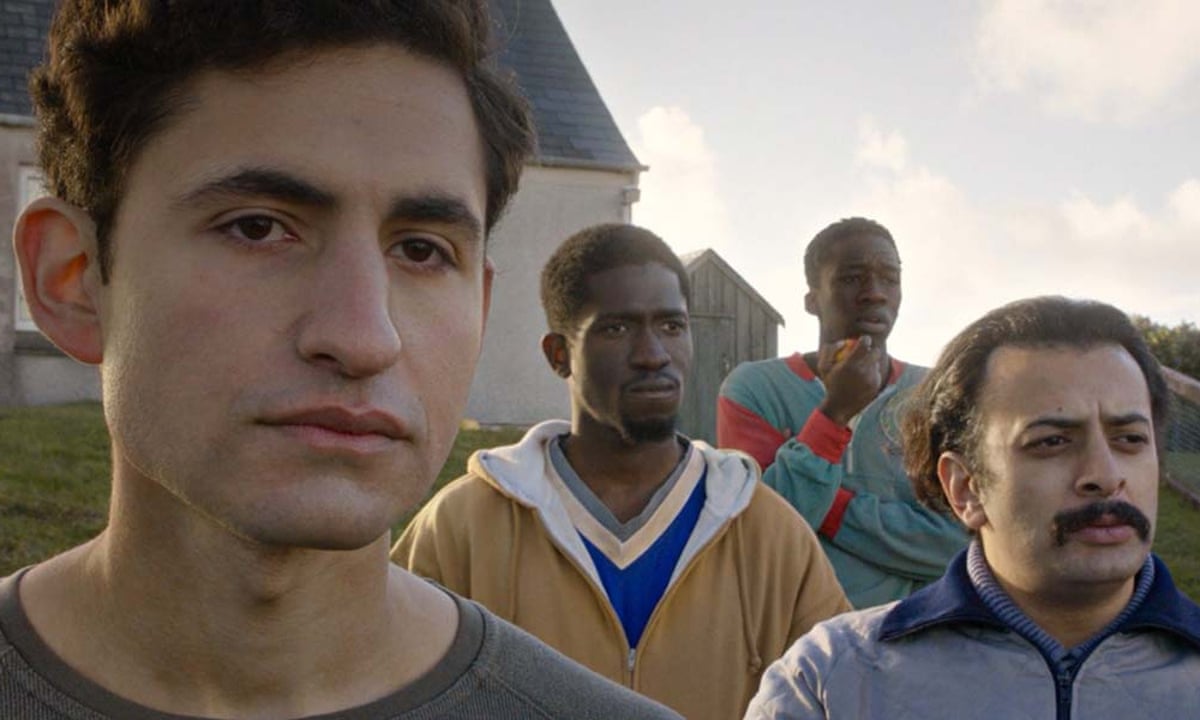 The pantheon of British black comedies is filled with some of the all-time greats of the genre; Withnail & I (Bruce Robinson, 1987) and Trainspotting (Danny Boyle, 1996) immediately coming to mind. I have no doubt that Ben Sharrock's second feature, Limbo, will soon be added to that list. Set on a remote Scottish island, Limbo follows a group of refugees as they wait for the results of their asylum requests. It is a film that bounces from wickedly funny to gut wrenchingly sad, all in the search of something authentic.
Sharrock rejects the idea that his film should have a blatant "message" and instead he focuses on characters. When injustice happens, it isn't shoved in your face, but rather he forces you to sit in the discomfort with the same powerlessness the characters have. For most of the film there are no big dramatic moments; we just watch this eccentric group chat, watch Friends and learn about Western culture in classes led by the hilarious Margaret (Grace Chilton) and Boris (Kenneth Collard). These little moments filled with dry humour make the film, giving it its strange charm. It's sad when we slowly lose these moments in favour of a more conventional story; it's a shame to see a film lose what made it great.
We fall in love with our lead Omar (Amir El-Masry)'s quirky bunch of friends, at the expense of Omar. The scenes with Omar's family feel forced and unearned. His emotional scenes don't hit us like a surprise gut punch, instead they are forced in when they don't really belong.
Sharrock never cuts the playful nihilism entirely. The 'life is absurd' aspect that defines black comedy is certainly there, though probably not as much as I'd want. It's hard to finish a film– setting up a clever premise and writing funny scenes is easy, but when you have to bring it all together and end it satisfyingly is when it gets difficult, and this is where Ben Sharrock stumbles.While Limbo has its flaws, they are easy to overlook. Any dissatisfaction I felt when initially watching the film was forgotten. When I look back on it, I remember the funny moments and intensely likeable characters. I see a potential cult classic, and a director soon to join the ranks of Danny Boyle and Edgar Wright.
Gagarine
Review by Cathal Eustace
Gagarine follows the teenage Yuri (Alseni Bathily) who desperately attempts to save his home, a housing project known as Cité Gagarine, from being demolished. Both Yuri and his home were named after the Russian astronaut Yuri Gagarin who is shown visiting the apartment blocks in the 60s. Yuri is stuck in a stagnant quest for meaning as he walks around the Cité Gagarine with his friends. Cité Gagarine feels like a character in itself, arguably just as important to the film as Yuri. Large, grey and dull it's a constant backdrop against Yuri's existence, giving him shelter and company, later beautifully juxtaposed against Yuri's surrealist, beautiful dream sequences.
Yuri's obsession with science and space poignantly fills the void left by his family, something that could be discussed more in the film. This obsession is detrimental to Yuri's nature and is what leaves him fervently clinging to the Cité Gagarine; though it is doomed to be destroyed, and all of those around Yuri seem to have made peace with that. Yuri's love for his home and the extremes he endures to stay there are elegantly accompanied by charming montages and the endearing, oddball characters who populate the Banlieue. Though not much happens in Gagarine, there is an introspective tone that results in a non-French speaking audience feeling rewarded for sticking with and appreciating the film.
Gagarine is directorial debut for Fanny Liatard and Jérémy Trouilh and, had the Cannes Film Festival 2020 gone ahead, I can guarantee that we would all be hearing more noise about it this year. Khoudri's performance wonderfully complimented Bathily's, and under the impressive direction of Liatard and Trouilh, this film will go far.